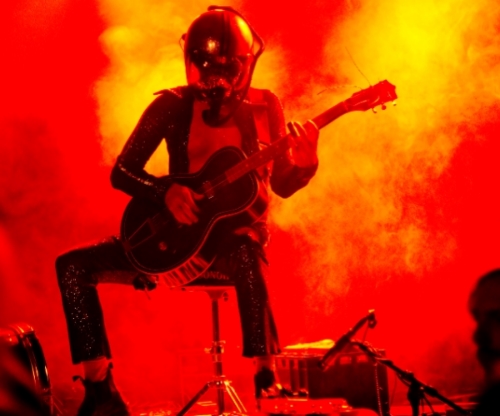 Produit pervers du désert de l'Arizona, Bob Log III a assidûment traversé le globe depuis 1996, faisant preuve de ses talents incomparables et rassemblant une foule de fans dévoués sur son chemin.
Vêtu de ses combinaisons d'homme canon extra moulantes et de son casque de moto avec téléphone/micro intégré, Bob Log III finit immanquablement en sueur, en jouant de la grosse caisse du pied droit, de la cymbale faite maison du pied gauche, et du slide sur une vieille guitare archtop.
Il provoque inlassablement du grabuge musical et cherche vraiment à faire la fête, ce qui lui a valu de jouer aussi bien à des anniversaires pour enfants ou à d'obscures fêtes de la bière dans des granges, que pour les plus gros festivals, … et pour tout ce qu'il peut y avoir entre les deux.
Derrière cette image hypnotisante sur scène, la (vraie) raison pour laquelle Bob Log III est devenu un super héros adoré dans le monde entier est celle-ci : son jeu de guitare. Finger picking rapide comme l'éclair, glissant en haut et en bas du manche, s'arrêtant quand bon lui semble, puis reprenant aussi quand bon lui semble, tout ça fait bouger de façon incontrôlable, donne le vertige et le sourire !
Et c'est mathématique, à la seule exception de Hasil Adkins, Bob Log III a inspiré TOUS les autres one-man band !
Bob Log III is an American, Slide Guitar, One Man Band. During performances, he plays old silvertone archtop guitars, wears a full body cannonball man suit, and a helmet wired to a telephone which allows him to devote his hands and feet to guitar and drums. The spectacle has been described as a guitar dance party, full of sweaty smiles, jumps and kicks. Touring over 150 shows a year in more than 30 countries, Log and his guitar never, ever quit. Bob Log's version of quick Delta blues is a continuation the sound that Bob Log and Thermos pioneered in the duo, Doo Rag. The major differences are: greater emphasis on guitar showmanship, and drumming -one man band style-with his feet. It sounds like three drummers, two guitar players, and one sort of singer. Based in Tucson, Arizona, and Melbourne, Australia, he has made frequent tours of North America, Europe, Japan and Australia, Mexico, and Iceland.
http://www.boblog111.com/
https://www.facebook.com/BobLog3
http://www.lastfm.fr/music/Bob+Log+III