URBAN VOODOO MACHINE : Un collectif londonien mené par le norvégien Paul-Ronney Angel.
7 à 12 musiciens jouant des guitares, tambours, violon, trompette, banjo, washboard, contrebasse, gong, mandoline, accordéon, harmonica, saxophone, tuba, sousaphone et des bouteilles vides et même du porte-cravate afin de créer leur propre style » Soaked Gypsy Blues Bop'n'Stroll « …
» Avec leurs chants de marins titubants, leurs ballades funèbres débauchées, leurs tangos dégueulasses, leurs rythmes gypsies imbibés de whiskey, certains disent qu'ils sont de la même écurie d'étalons que Tom Waits et Nick Cave (… ) »
AU DÉBUT: Les étoiles étaient toutes alignées le soir où Paul-Ronney Angel a été prié par un promoteur d'être la garniture pour son sandwich . Pas du genre à refuser, PR s'est rendu compte qu'il avait 48 heures pour monter un groupe. Pas de problème. Après avoir écumé les bouges et les asiles de Londres, demandé quelques faveurs et donné quelques coups de fouet : Urban Voodoo Machine était né .
Les Urban Voodoo Machine viennent de sortir leur quatrième album » Rare Gumbo «
THE URBAN VOODOO MACHINE: A London collective led by Norwegian born Paul-Ronney Angel. Featuring between 7 to 12 musicians playing guitars, drums, fiddle, trumpet, banjo, washboard, upright bass, gong, mandolin, accordion, harmonicas, saxophone, tuba, sousaphone and even empty bottles & tie racks to build their unique brand of Bourbon Soaked Gypsy Blues Bop'n'Stroll…
« With their lurching sea shanties, debauched murder ballads, messed-up tangos and whiskey-soaked gypsy stomps, some reckon they're from the same stable of stallions as Tom Waits and Nick Cave (… ) »
IN THE BEGINNING: The stars were aligning in the skies the night Paul-Ronney Angel was begged by a promoter to be the filling in a triple bill sandwich. Never one to turn down a knees-up, P-R realised he had 48 hours to put a band together. No problem. Trawling the dives and doss houses of London, he called in some favours, cracked some whips, and so it was that The Urban Voodoo Machine was cranked into life.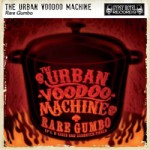 Rare Gumbo  ( Gypsy Hotel Records )
14 novembre    Lille          Aeronef               TICKETS
15 novembre    Besancon l'Antonnoire
16 novembre    Orleans    Le Blue Devils    TICKETS

14 novembre Lille Aeronef
http://theurbanvoodoomachine.com/
http://www.facebook.com/TheUrbanVoodooMachine?fref=ts