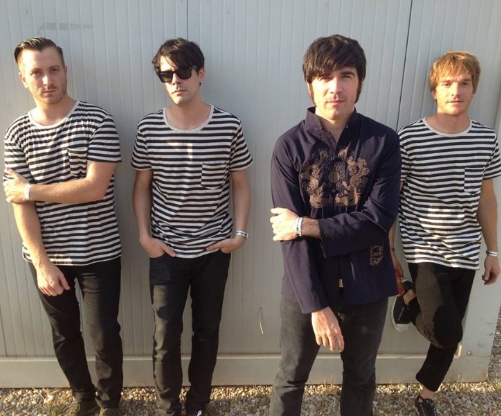 Comme son nom ne l'indique pas du tout Tokyo Sex Destruction, vient d'Espagne, plus précisément de Catalogne, fan de rock 60 / 70's et plus spécialement des MC5 . Le groupe fait vibrer les membranes de nos enceintes à partir de 2003 avec un premier album, Le Red Soul Communitte, le groupe enchainera alors les sorties, façon 70's et pond en 2004 Black Noise is the New Sound puis en 2005 5Th Avenue South. A chaque album Tokyo Sex Destruction prouve un peu plus qu'il n'est pas un simple groupe de revival rock, comme on en a vu à la pelle ces dernières années, mais bel et bien un groupe qui transpire la rock'n roll à chaque note.
Gregg Foreman (the Delta 72, musicien de Cat Power…) s'est chargé de produire leur quatrième album The Neighbourhood en prenant soin de valoriser un son chaud et organique.
Après une pause en 2011, les voici de retour avec une nouvelle formation et un nouvel album » Sagittarius » (  23 mars 2013 / en France : distribution La Baleine )

"Sagittarius" is destined to be one of the most important albums in Tokyo Sex Destruction career, 10 years after their first album, the legendary "Le Red Soul Communitté" and 4 years after "The Neighbourhood", the boys from Vilanova have a last managed to join the wild energy from their first steps and the maturity gained after years of touring the world: USA, France, Canada, Germany, Russia…leaving a trail of red shoes and sore red throats.
Lazy and sensual, in "Sagittarius" we can see all the influences that have made Tokyo Sex Destruction one of the most important bands of our music scene: Latin percussions, psychedelic build ups, gob-smacking soul choruses, rock and roll from the MC5/Stooges school and hippy gang style. All the Holy Trinity of 60's and 70's rock in one album.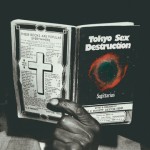 Saggitarius
http://www.facebook.com/pages/TOKYO-SEX-DESTRUCTION/41551245145