The Split Squad est l'un de ces groupe rock'n'roll dont les musiciens ont tout fait et n'ont plus rien à prouver. Bien que cela puisse sembler un peu vantard, leur pedigree ( à eux tous réunis ) couvre 140 ans d'histoire du rock'n'roll, de la plus grande salle de concert aux pires des rades underground.
Eddie Munoz: Guitariste ( Plimsouls … )
Clem Burke: Batterie ( Blondie … )
Michael Giblin: Bassiste / Chanteur ( Parallax Project, Cherry Twister … )
Keith Streng: Guitariste ( The Fleshtones … )
Josh Kantor: Clavier ( Jim's Big Ego,The Baseball Project … )
Le groupe enregistre son album à Boston en 2012 avec plusieurs guests : Peter Buck (R.E.M.), Hugo Burnham (Gang of Four), et Mike Gent (The Figgs). Il est produit par Scott McCaughey (R.E.M., Minus 5, Young Fresh Fellows).
Conceived over cocktails, wine, and beers in 2011, The Split Squad is one of those "perfect storm" rock and roll bands that comes from a bunch of musicians who have done it all and have nothing to prove. While that may sound a bit boastful, the pedigree here covers about 140 years of collective rock and roll experience, from the most rarified of concert halls, down to the seediest of underground shit holes. These guys have both reveled and wallowed in it:
Eddie Munoz: Guitarist ( from LA's legendary Plimsouls )
Clem Burke: Drums ( Blondie … )
Michael Giblin: Bassist/singer ( Parallax Project, Cherry Twister … )
Keith Streng: Guitarist ( The Fleshtones … )
Josh Kantor: Keyboardist ( Jim's Big Ego,The Baseball Project … )
The group came together in Boston in the summer of 2012 to record an album, which ended up being a raucous and hilarious good time. Produced by Scott McCaughey (R.E.M., Minus 5, Young Fresh Fellows), the album features guest appearances by McCaughey, fellow rock & Roll Hall of Famer Peter Buck (R.E.M.), Hugo Burnham (Gang of Four), and Mike Gent (The Figgs). The resulting set of songs is a spirited and diverse trip through the influences and record collections of a ridiculously experienced set of musicians. And man, you should have heard all the stories….
Ladies and gentlemen….The Split Squad…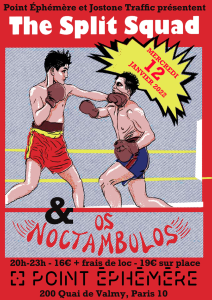 12 janvier Paris « Point Ephemere »tickets Flickr – bit.ly/1Km2KwJ
13 janvier Rouen « 3 Pieces »
14 janvier Rennes « Salle de la Cité »
15 janvier St Hilaire « CBGBSion »
16 janvier Cransac « Le Staff »
17 janvier Montpellier « Secrete place
http://www.thesplitsquad.com/index.php?page=about
https://www.facebook.com/TheSplitSquad/timeline