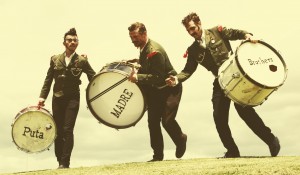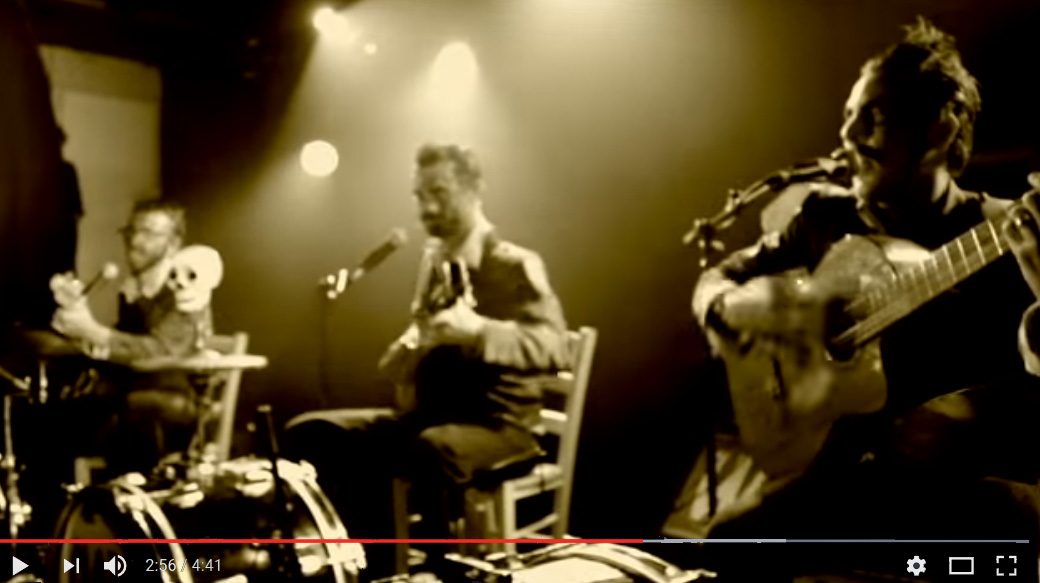 WHEN WAS THE LAST TIME YOU
SAW THESE THREE MEN???
« DONDE ESTA LAS PUTA MADRE HERMANOS??? » (all the men cried)
(« WHERE DID THE 
PUTA
MADRE
BROTHERS
 GO?? »)
« SALIR DE MI VIDA!!!! » (all the ladies screamed)
(« GET OUT OF MY LIFE!!! »)
!PUTA MADRE BROTHERS!
THREE MEN.NO MISSION
"Three Virgins De Guadalupe with not a hymen between them!" – FasterLouder.com
THE WORLDS LAST SURVIVING TRIPLE-ONE-MAN-BAND RETURN WITH A FAST THIRD ALBUM OF HOT SEXING DANCING SONGS AND LUBRICATED HUEVOS RANCHEROS!!!
Hotter than a jalapeno in the desert sun and greasier than a deep fry of nacho cheese, the world's only surviving one-man-band-times-three
return to the world of Europe this July for the first time in a long time! The triple-bass drum boom rock n roll outlaws bring their saddles full of western mariachi chaos and leg-trouble garage soul get-downs and the release of their third, yes, third, album, mini-album Amor Y Basura (Love And Garbage). Puta Madre Brothers! These crazy fucking white non-Mexicans armed with three drumsets and three guitars will turn you're your arse on fire if not their own! They will sting you with their sharp guitars, steal your cigarette and wink at your wife, and make you dance like nobody ever wanted to see you dance!
Thirty fingers, six feet, three mouths, and a 84 tubs of hair grease make this band the most electric experiment in modern entertainment today. They will burn your ears with hot barbecued chicken.
It's  a new world class standard in sound and fury, where insanity is only four short breaths away and the ghosts of 50's teen heart-throb Ritchie Valens and 80's girl disco band ESG linger like barbecued superstars.
The most spectacular band you have never seen, the three-headed one-man-band-band, the gringo lunatics of garage soul cacophony, the three men with no mission.
REVIEWS!!!
"Puta Madre Brothers are on a journey to a destination only they understand. Judging by the postcards, it's a crazy place, and only one for the true of spirit." – Beat Magazine, Australia
"Dirty, dishevelled, and possibly the only Australian Mariachi band, the Puta Madre Brothers took the stage first. Boasting themselves as the world's only one-man-band band, the brothers surely do have a unique thing going for them. If you do the math (like I did), you have 3 band members each playing guitar, drums and singing vocals. So that's the equivalent of having like a nine person band on stage.
Punishing their cymbals with fists, feet and guitar necks, the band played an amazingly booty-shaking set. Puta Madre Brothers proved themselves to be more bros than brothers, and by the end of the set the crowd felt like they too were bros to the band. So much so in fact, that when it came time for the set to finish, the crowd, who decided they hadn't quite seen enough yet, demanded that the band do an encore, which they did modestly. This is something I have never seen an opening band do before, and a testament to how enjoyable a show they put on. Do yourself a favour and catch them next time they pass by your town." – THE AU REVIEW
"Insane." – PBS FM
https://www.facebook.com/putamadrebrothers/?ref=br_rs
http://whitebreadmexican.wixsite.com/putamadrebrothers