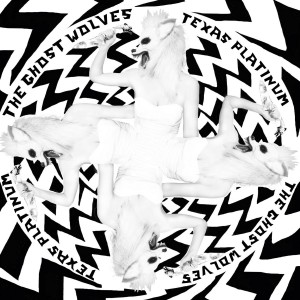 THE GHOST WOLVES formed in Austin, Texas in 2011. Carley (guitar, 27) and Jonny (drums, 28) started playing in their living room,
hoping to start a punk-blues duo that would be loud and fun for everybody who came to their shows. Their feral sound and wild live show
quickly drew a loyal following in their hometown and after the release of their first recording, EP "In Ya Neck!" they were invited to
Europe and Japan to perform.
6 years later, closing in on 1000 shows in 15 countries, and with two full length albums released by labels from Nashville and Berlin
The Ghost Wolves are an ever evolving and vital creative team. Rock & Roll would be their genre by instrumentation (guitar, drums)
and live presentation. At their shows, Carley channels Mick Jagger, Debbie Harry and Nick Cave simultaneously. She is both frightening
and enlightening – her full stack guitar fuzz rumble rattling your brain case while she sings and squeals away in her natural Betty-Boop
helium pitch. The contrast between the two sounds she produces is deeply felt by observers – this is a wild woman, but she is also somehow
inviting and engages with her audience. Jonny sits behind her at the drum kit, pumping out the beats night after night, a solid foundation for
Carley's throwdown. His history as a sideman for guitar legends like Greg Ginn and Junior Brown serve him well here. Odd instruments
often find their way on stage – one string and cigar box guitars, a crystal punch bowl from Jonny's grandmother's house, a metal watering
can. These two make music in their own way, and after a Ghost Wolves show, you are made one of the pack no choice about it.
Currently, the duo is cutting a record with producer and former Island Records vice-president Rob Fraboni (Rolling Stones, Bob Dylan,
The Band), who discovered them at SXSW 17′ and invited them to record with him at Carriage House studios in Stamford, CT.
This September and October they will open 25 shows for Nashville based All Them Witches across Europe and The U.K. Japanese fashion
house Hysteric Glamour is featuring the band in their fall collection with their own line of Ghost Wolves clothing. Carley is in a movie
called « Mr. Roosevelt » which was produced by Noel Wells (SNL, Master Of None) and is showing at movie theaters globally.
It's not a bad time to be a wolf, or a Rock n' Roller. Just like the animal, who has been previously hunted down in the great American
wilds, the music is coming back around too, this time stronger than ever, and fronted by a crazy woman.

31
Jan Lüdenscheid
Panoptikum , Germany
01
Feb Utrecht
dB's oefenstudio's, concertzaal & café , Netherlands
05
Feb Brighton
The Hope and Ruin, United Kingdom
06
Feb Bristol T
he Elmers Arms , United Kingdom
07
Feb London
Dirty Water Club at The Finsbury , United Kingdom
08
Feb Groningen
Vera , Netherlands
11
Feb Osnabrück
Whiskey's Unrockbar, Osnabrück , Germany
12
Feb Cologne,
Sonic Ballroom  Germany
13
Feb Saarbrücken
Tarte Anna , Germany
14
Feb Essen
Freak Show  , Germany
15
Feb Altfinnentrop
Blaues Haus , Germany
16
Feb Mannheim
Blau, Germany
19
Feb Turin
Blah Blah , Italy
20
Feb Castiglion Fiorentino
Velvet Underground, Italy
21
Feb Madonna Dell'albero
Bronson Café , Italy
22
Feb Roma
Trenta Formiche , Italy
23
Feb Siena
Cacio E Pere , Italy
05
Sep
Muddy Roots Music Festival Cookeville, TN
http://theghostwolves.com/
https://www.facebook.com/TheGhostWolves/?ref=br_rs
https://www.theghostwolves.com/epk