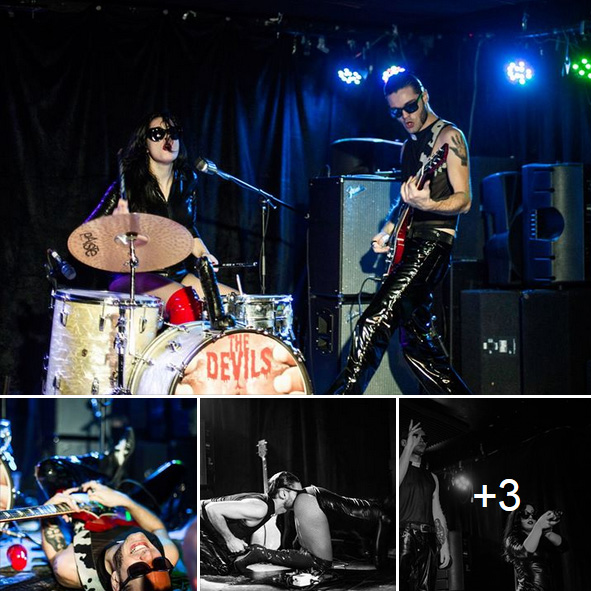 LOUD SAVAGE TRASH FROM NEAPLES IN ITALY!
THE DEVILS se sont formés en 2015 à Naples et ont tiré leur nom du B-Movie de 1971 de Ken Russel « The Devils ». Gianni joue de la guitare et chante, et Erica joue de la batterie et crie dans le micro. Ils ont enregistré leurs deux albums avec Jim Diamond, sont signés sur Voodoo Rhythm et tournent intensivement dans toute l'Europe et au Canada.
The Devils montent à eux 2 un énorme mur de bruit et de fuzz, aussi primitif que possible, et ne sont certainement pas là pour faire dans la poésie. La batteuse prend sûrement du speed au petit déj et ils ne repartiront pas avant d'avoir détruit la scène, et vos oreilles aussi au passage. Ils affirment qu'ils sont en mission commandée pour sauver la chrétienté.
The Devils sont des sauvages, blasphématoires, sexy et rock'n'roll. Âmes sensibles s'abstenir !
The Devils formed in The Deep South Of Italy Neaples in 2015, Recorded 1st and 2nd Full Lenght with Jim Diamond (the Dirtbombs, White Stripes etc) hooked up with Voodoo Rhythm Records and Toured all over Europe and Canada (about 300 shows!). Gianni Puzzadidio plays the Guitar and Sings and Erica Volgare hits the Drums and Screams in the Microphone, This is a Huge Wall of Guitar Fuzz and Noise and Vocals as Minimalistic and Primitive as it gets, this is No Bob Dylan poetry thats pure Evil and Lots of Fun !! Chainsaw Massacre Hysteric Earbleeding Vocals and the Drumer probably Eats Speed and Power Food for Breakfast, they are Dressed up as Preacher and Nun and Destroy every Stage that they can play on, they Are Hot and Wild Very Loud and Very Very Sexy !!!!!
They have been on tour with: THE SONICS, BOSS HOG, THE MONSTERS .
Played many Festivals: AZKENA ROCK FESTIVAL, COSMIC TRIP FESTIVAL, MUNSTER RAVING LOONEY PARTY, BEACHES BREW, etc
The Devils named themself after Ken Russel's super B-Movie smasher 'the devils' from 1971 .

27/10/18 OXFORD PUB – TOURS France

28/10/18 LE KLUB – Paris France  + Human Toys

29/10/18 BLUE DEVILS – ORLEANS, FRANCE +Human Toys

30/10/18 LA LAITERIE – STRASBOURG, FRANCE LINK
31/10/18 LE MOLOCO – AUDINCOURT, FRANCE
02/11/18 BOMBSHELL – CLERMONT, FRANCE
03/11/18 LES TOQUES – PERIGUEUX, FRANCE
https://www.thedevils.info/
https://www.instagram.com/thedevils_insta/
https://www.facebook.com/thedevilsduo/