En 2006 à Londres, un japonais, un espagnol, un caribéen et un francais décident de combler le manque de groupes de rock and roll et de former un groupe de wild black rhythm & blues. Avec des influences empruntées à Andre Williams, Screaming Jay Hawkins et King Coleman (RIP), ils décident d'unir énergie punk ( ils ont joué précédemment dans des groupes tels que The Parkinsons, The Ulcers, Chinese Lungs, UK Subs, the Cannibals, Paul Collins Beat, et Nipple Erectors) et le rhythm & blues 50's américain. Le résultat est détonnant, et après seulement un concert, ils sont invités à jouer en 1ere partie des mythiques Trashmen en Espagne au maintenant légendaire Funtastic Dracula festival où ils font fureur.
Depuis ils ont silloné toute l'Europe, partageant la scène avec les Pretty Things, Kid Congo Powers, the Bellrays, the Mummies, the Cynics, Graham Day & the Gaolers, the Woggles, the Outsiders, the Standells, etc…jouent régulièrement au Portugal, Italie, France, Allemagne, Belgique, Finlande, Espagne, Hollande,
etc.
Ils ont enchainé une floppé de 45 tours sur différents labels européens (Butterfly records en Espagne, Soundflat Records en Allemagne, et Murder Slim Records en Angleterre), et récemment ils viennent de sortir chez Dirty Water Records leur deuxième album » Cookin' Up a party « .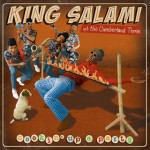 Cookin' up a party ( Dirty Water Records )
nouvel album « Going back to wurstville »
concert:
le 8 juillet Gierle Sjock festival
http://www.reverbnation.com/kingsalamiandthecumberland3
http://www.facebook.com/KingSalamiandtheCumberland3